Tiger Leaders
July 21, 2021
---
Jon Simonsen, Associate Professor, Division of Applied Social Sciences, College of Agriculture, Food & Natural Resources
Our featured faculty member from CAFNR is Associate Professor Dr. Jon Simonsen, agricultural education and leadership associate professor, director of graduate studies and department chair. He was nominated by Senior Associate Dean Bryan Garton, mainly for two major initiatives he was instrumental in leading. One was the Inclusion, Diversity and Equity (IDE) Curricula Team. He explains, "Dr. Simonsen was instrumental in leading our college's efforts to develop a core set of learning objectives focused on Inclusion, Diversity and Equity and cultural competence." This team, formed in 2020, was tasked with developing diversity and inclusivity learning objectives for faculty to integrate into their curriculum for all CAFNR students.
Another major initiative, which Simonsen helped design and create, was the Litton Leadership Scholars Program. It is a student leadership development program, with the first group of students starting in 2012. Since then, 182 students have been a part of this group of CAFNR students, selected from those meeting the minimum GPA requirement and who will be in their second year at MU when they start the program. During the year, they shadow a leader and develop a project or skill to work on in their field of interest. Garton says, "Today, the Litton Leadership Scholars Program has grown into the primer leadership development program in the college and has been emulated at several land-grant institutions across the country."
Simonsen also won the CAFNR Golden Apple award in 2018 for his teaching and mentoring of both graduate and undergraduate students. When asked about how the pandemic changed teaching and learning, he said, "Being in the social sciences has been challenging during the pandemic because we thrive on interaction with people. It was really hard to not have the normal consistent interaction." Instead, some classes were open for discussion time to better help students. He explains, "These were times outside of class where students could share what was going on at their jobs or happenings around them. Especially with our graduate students it provided community and at times these happened in the evenings or on Sunday when students were able to join via Zoom and connect."  As far as what the future holds for teaching, Simonsen says, "We will continue to utilize different technologies to compliment what we do in the classroom in an attempt to provide the best learning environment for all students."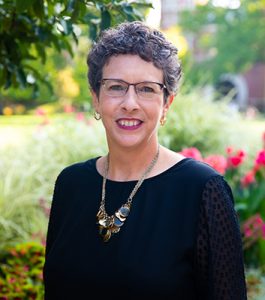 Sonya Nistendirk, Senior Executive Assistant, College of Education & Human Development
Sonya Nistendirk has just celebrated 30 years with MU and the College of Education & Human Development and has worked with over eight deans throughout her career. She has won numerous awards, including the college's Staff Member of the Year (several times), the Staff Excellence Award, and the Alumni Relations Excellence Award.
Anyone with that long of a career in the same place has seen a lot of changes, the most recent being the switch to remote and online work during the pandemic. "It was so different to not see everyone in person, and it was difficult to shift events online or cancel them entirely." Nistendirk explains, "Since some people were working on-site and many continued to telework, we had to make conscientious efforts to foster and reinforce a sense of camaraderie, teamwork and belonging in the work place."
She was nominated as a featured staff member by Interim Dean Erica Lembke, because "her professionalism, planning, respect, careful consideration, and forward thinking are exemplary." Lemke says she is a "consummate professional," and "her historical knowledge of procedures, processes, and policies is unmatched." Working in a dean's office also means interacting with many different groups of people. "Her work as an alumni representative and her promotion of the United Way campaign are just two ways that she gives back to not only our college, but to Mizzou," says Lembke.
Adapting quickly to new technology was one way her office responded, and some staff members continue to use teleworking to reduce office space. One of the many challenges returning to work this past May, according to Nistendirk, was, "We also had to think of interesting ways to engage alumni, donors and students when everyone was tired of so much time online."
This type of adaptability and creativity demonstrates the Tigers Helping Tigers mentality. Lembke says, "She is absolutely seen has a valued and trusted partner in the Dean's office and in the college and we are better because of her."