Student Success Champions
May 13, 2022
---
On April 19th, the Office of the Provost hosted a colloquium on Student Success Research and Practice. Faculty made presentations on student mental health, financial aid, first-time college students & the undergraduate experience, and MU Connect Early Alert. Following the presentations, there were discussions about strategies to support student success and what opportunities there are to improve on the interventions currently being used. In this newsletter, we highlight members of the Mizzou community who are true student success champions:
Dr. Eric Parsons, associate teaching professor and director of undergraduate studies in the Department of Economics
Dr. Eric Parsons has won or been nominated for numerous teaching awards, and most recently, was announced as one of five 2022 Kemper Fellows recognized with a $15,000 award "to recognize the importance of teaching excellence to the success of the university by honoring MU faculty who have demonstrated outstanding teaching abilities." Nomination materials include supporting letters from nominee's chair and/or dean, colleagues, staff members, and students (current or former).
How does a faculty member honored for outstanding teaching define student success? From a faculty perspective, it probably means achievement in the classroom, and to a student it may be defined as meeting individual goals, such as participating in extracurricular activities, or belonging to organizations or clubs beyond the classroom. He offers a more holistic definition: "providing students with the skills, credentials, and networks to be successful after they leave college. This allows for broader pursuits than the strictly academic but also purposefully takes a long-run view. I also have a feeling that this definition aligns closest to how parents (and probably potential employers) would define student success."
However you may define it, there can be a variety of barriers to student success that a new college student may encounter in the first year. Financial hardships are one difficulty that may get in the way of prioritizing academics. Parsons says, "This can then exacerbate the time commitment issue if the student has to work significant hours to make ends meet and may be compounded if students struggle to properly weigh the trade-offs between the long-run benefits of academic success and the short-run benefits of working more hours (acknowledging that some students truly have to work significant hours to make college feasible)." Financial holds were also discussed at the colloquium as one of the early intervention tools, and other possible alternatives, such as partnering with the Office for Financial Success to develop and evaluate interventions aimed at helping students reduce financial holds.
What are some proactive measures faculty and advisors can do to help facilitate student success? Parsons says that they should let students know what opportunities there are out there:
"Most of our students have never been adults pursuing a career. We have. So we can help them better prioritize what components of their college experience are vital for meeting those goals. And in most cases, this will involve an emphasis on academic success. However, it can also direct them to what other experiences are worth pursuing, such as internships, research opportunities, relevant student and professional organizations, etc."
Parsons mentions that some strategies that are working at Mizzou to help support students are financial aid resources, mental health and study skills resources, MU Connect, and the New Student Check-In survey. In the Department of Economics, he says, "we are blessed with two (soon to be three) excellent advisors (whom we share with the Truman School), who do a superb job in helping students discover their paths and then supporting them as they move along them. There is also strong support of internships, undergraduate research, and other valuable outside-the-classroom student experiences on campus."  
Alaina Karaffa, Care Coordinator for the Care Team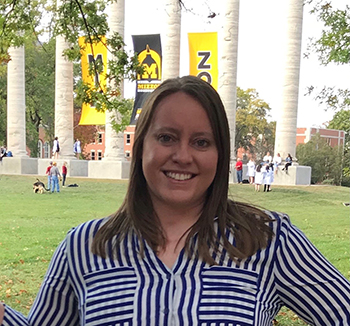 One of the goals discussed at the student success colloquium was to increase awareness of the Care Team and mental health resources on campus. Alaina Karaffa is one of the Care Coordinators on Student Affairs' Care Team who matches students with resources on campus to help them with financial, academic, or mental health challenges. Karaffa says,
"We sit and listen to the struggles a student is experiencing and then provide appropriate referrals and resources to areas on or off campus that would be most useful based on their individual needs. Depending on circumstances, this may involve multiple meetings with a student. Our ultimate goal is to attempt to foster the development necessary for students to learn to advocate for themselves."
If a faculty or staff member notices a student is struggling, what should they do first? She recommends communication within the department or academic unit: "This results in a coordinated effort where the student is provided support and resources for their specific needs. If the concerns are not resolved, it works well to help students connect with other campus resources. Some examples include: Student Health and Well-being, Social Justice Centers, Learning Center, and the Disability Center. If the situation is not able to be resolved with those resources, it may be a great time to consult with the Care Team."  
The Care Team had extra challenges during COVID. Karaffa explains, "Since COVID, the Care Team has noticed a higher demand of students coming to us with health issues (mental and physical), financial concerns, grieving a loss (relationships, death, sense of normalcy) and adjusting to 'getting back to normal'."
According to Dr. Bill Stackman, vice chancellor for student affairs and dean of students, "We started the Care Team a couple of years ago with just one person. Since then, it has really taken off to meet students' and family's needs. Currently, the team has four staff members, and each academic unit on campus has its own designated care coordinator. The Care Team is there to help faculty and staff to support students, help connect them with resources, and help them navigate their time at Mizzou. You can learn more about the Care Team at studentaffairs.missouri.edu/care-team."
Much like Dr. Parsons, Karaffa defines student success as preparing them for life after Mizzou: "Our students gain knowledge in an area of expertise in the classroom that will be applied for future employment. Our students learn adaptability by interacting in student groups and organizations that may have various paths to take in achieving the desired outcome. Students grow individually by taking the time to improve their well-being and explore who they are and how they are going to apply themselves outside of college. Being successful in college is more than just a grade, it's about the experience, skills learned and the self-advocacy they develop along their journey."
To refer a student to the Care Team, complete a Care Report using the Get Help button on most Student Affairs websites or visit the Reporting Concerns website: https://studentaffairs.missouri.edu/concerned-about-a-student/