Shining Brighter Together: Two Anthropologists Explore the Spirit World in New Book
Oct. 27, 2023
---
by Jade Elwess
Photos by Hanna Caldwell
Mid-career cohort faculty fellowship program helped set foundation for book success
Mizzou has a rich history of campus ghost stories, many of which take place in the Chancellor's Residence. Alice Read, wife of Daniel Read, the sixth president of the university, died in the residence in 1874, and reportedly still greets visitors there by making noises on the third floor, chiming a grandfather clock that is broken, and opening and shutting elevator doors with no one inside.
These and other stories are all part of the supernatural mythology of the Mizzou campus, according to Christine VanPool, associate professor in the Department of Anthropology.
She leads her students on a ghost tour of campus, in her anthropology class, "Spirits and Souls: A Cross-Cultural Comparison of the Supernatural," pointing out locations where the mysterious stories allegedly took place.
Christine and her husband, Todd VanPool, professor and chair in anthropology, recently wrote a book together called An Anthropological Study of Spirits. The origin of the idea for the book occurred when their son, who was eight years old at the time, was watching "The Haunted," a reality show about paranormal experiences, and asked questions such as why a supposedly haunted house would intend to harm the people living in it.
The answer to that question is a reflection of how each culture interacts with spirits. Christine uses the examples of the Zuni, the Hopi and the Navajo, who put a sentient being in a new house as protection from evil for the people living inside.
"Even a ghost story that's clearly made up reflects the underlying cultural perspective of who or what ghosts are, how they interact with humans, what they want from humans, these sorts of things," Todd says. "So we weren't concerned about true stories versus untrue stories because the nature of people's beliefs don't come down to those sorts of easy questions. Instead, we were trying to look at cultural impacts."
As Halloween nears, many enjoy being scared or surprised by haunted houses, scary movies and ghost stories. The VanPools are interested in the larger context of what cultural purpose these ghost stories serve.
Rather than being a book of gory ghost stories, the book contains case studies of how different cultures around the world perceive and interact with the spirit world. In the book, the researchers examine questions regarding the larger cultural context of ghost stories that they felt hadn't been addressed in anthropological studies.
"There's something about us humans when we're in tight, constricted places that don't have good lighting, we are more apt to see something in the shadows," says Christine.
This is called hyperactive agency detection device, discussed in chapter two of the book. Being overcautious is a protective mechanism so if there is something lurking in the shadows, you will avoid the potential danger and won't be harmed. Your brain is tricking you to ultimately keep you safe, as in the fight or flight reaction, and this offers one possible explanation as to why people have what they perceive as supernatural experiences.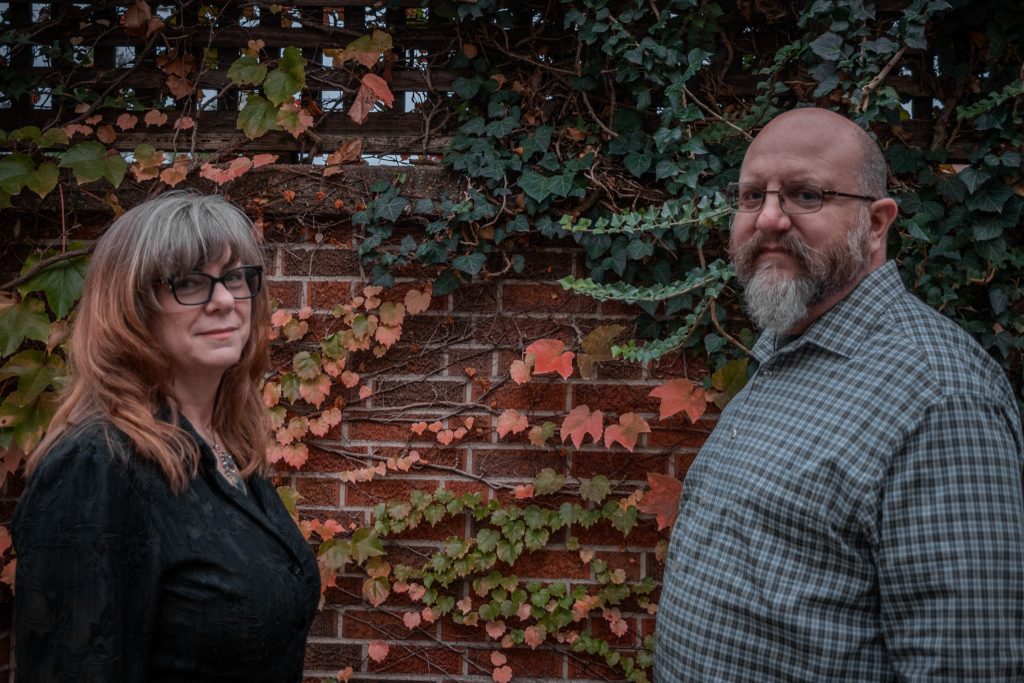 Collaboration: "Steel Sharpens Steel"
In addition to being married for over 31 years, the VanPools have been professional colleagues since they met as undergraduates at Eastern New Mexico University. Although Todd was born in New Mexico, his father is from Eldon, Missouri. He has plenty of roots in the state, so it was a sort of homecoming when they were both hired at Mizzou.
The VanPools have slightly different areas of research that overlap in An Anthropology Study of Spirits. Christine is interested in the archaeology of spirituality– shown in shamanic symbolism found on clay pots –and also the cognitive structure of humans as they interact with spirits, such as gods or ancestors. Todd also studies religion in the framework of cultural development and traditions.
"Over the last two and a half decades, we have been working on different aspects of time-related questions in terms of how it is that various aspects of culture can help people stay alive and prosper and thrive in certain environments, but also how it is that certain aspects of culture integrate with the human mind and what it is to be human," Todd says.
Christine was a member of the inaugural Mid-Career Research Fellows Cohort, a partnership program between the Office of the Provost and the Office of Research, Innovation, and Impact. It is a two-year cohort designed to provide research development opportunities to faculty, who participate in workshops and events. The development opportunities focus on research support, including balancing service commitments, engaging in collaborative work, understanding promotion criteria, and participating in opportunities such as writing retreats. Christine says this group helped her as she was aspiring to pivot in her research from archaeologist to a culture anthropologist studying the neurology of trance states. Seeing how faculty from other disciplines conduct research and write articles was very beneficial.
"The other thing about the mid-career program that I really loved was I had a lot of people who are highly successful here on campus who dealt with questions like, how do you write a book project, how you do this, how do you do time management? And they had some really great advice," says Christine.
The mid-career cohort group gave helpful suggestions about staying focused, creating an environment conducive to writing, and helped with maintaining accountability during the writing process.
This and other campus professional development programs focusing on Research and Creative Works can be beneficial for faculty in all disciplines and at different stages of a faculty member's career, says Candace Kuby, associate provost for faculty success.
"Faculty development and support programs, like the mid-career research development fellows cohort, provide spaces for faculty to be in community with each other and support one another in their research endeavors," says Kuby. "The cohort provides an avenue for them to learn about various units on campus that they can partner with as they engage in research and they receive some funding to aid in their research projects."
In the case of the VanPools, the writing of the book was a long and difficult process, with COVID disrupting their field research. They managed to make progress by splitting up the writing of the book into sections. They would brainstorm and discuss content on long walks. If there was disagreement, they would end up meeting in the middle.
Todd says the key to writing, whether it is for a book or a dissertation, is consistency. As long as you set small goals and work on it for a small chunk of time each day, you are still making progress, he says. Having someone to bounce ideas off of is also an advantage when working with someone else. When you debate and challenge each other, it strengthens the argument — or, as he puts it –"steel sharpens steel." "We shine far brighter together than we can individually," Christine says.
Spirits and Souls: A Cross-Cultural Comparison of the Supernatural will be offered again in Spring of the Spring 2024 semester. An Anthropological Study of Spirits is available in hardcover and Kindle formats.
To learn more about mid-career research cohort or other faculty success opportunities, visit: https://provost.missouri.edu/development/professional-development-programs/