Profiles of Excellence
Feb. 17, 2021
---
Continuing our series of profiles of a faculty member and staff member, we focus on two who demonstrate adaptability, leadership, and teamwork–Dr. Tim Lewis and Sheena Rice. 
Because Dr. Tim Lewis directs the University of Missouri Center for School-wide Positive Behavior Support (MO SW-PBS), the K-12 pivot to virtual learning in March 2020 had a direct effect on his research. This forced him to think on his feet. "We negotiated with the Institutes of Education Science, U.S. Department of Education to extend our funding an additional year and significantly reduced our current expenditures to push funds forward and are hopeful we will be back in the schools Fall 2021," Dr. Lewis explains. "We have also adapted some of our smaller studies to examine virtual interventions for students with disabilities."
But COVID also presented challenges to the graduate students in his department. Lewis explains, "Graduate students inability to work within our graduate suites, sharing ideas, expertise and at times a friendly face has unfortunately hampered the formation of informal cohorts, a critical component of preparing future leaders in our field."  However, they are using technology to their advantage: "In response, we have set up 'drop in' hours via zoom for our students to ask general questions, hear from some of the more senior students and meet all department faculty."
 Considering whether virtual teaching and learning will be carried forward post-pandemic, Lewis says, "Absolutely! Given the poor long term economic forecast for K-12 public education, virtual professional development and technical assistance is here to stay. This reality has led us to think creatively in terms of delivering effective instruction via virtual platforms as well as taking a deep dive into the literature on remote learning (e.g., single topic highly focused 10-minute webinars, podcasts, e-learning modules)."
In addition, the MO SW-PBS interacts with educators and provides technical assistance virtually, specifically developing resources for them on remote learning and conducting interactive online professional conferences to help answer their questions.
The shift to online learning has both positive and negative consequences. "With respect to our students, the isolation has forced them to look into alternative means to collaborate," says Lewis. "The upside as we all now live on zoom, interacting with other students and experts in our field the world over is a simple click away. We all look forward to a return to in-person instruction, meetings, and informal interactions with our colleagues and students (and ending meetings without waving). We are especially eager to resume our research in public schools."
Erica Lembke, Interim Dean of the College of Education, says, "Tim Lewis in Special Education is someone who has been serving teachers and families in MO and really his work transcends the US and abroad. During the pandemic his team has really pivoted well."
 At present, Dr. Lewis is a Curators' Distinguished Professor. He has secured over $80 million in grants to support his research and demonstration efforts, and is a frequent contributor to the professional literature examining various aspects of Positive Behavior Support. He has been involved with developing school-wide systems of behavioral support for over 25 years, and he has worked directly with school teams around the world.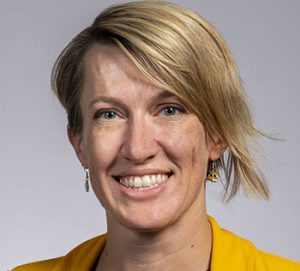 Sheena Rice, Communication Manager, Student Affairs
Sheena and her team had the massive task of coordinating volunteers to assist with the COVID arrival testing site at Hearnes at the start of the semester. She explains, "As campus leaders and Incident Command laid out the logistics of the event, they realized someone was going to need to focus on coordinating the staff willing to work at the site. This included building the schedule, sending communications, handling questions, and checking staff in and out of the area."
Bill Stackman, Vice Chancellor of Student Affairs, explains how Sheena became involved:
"The planning of the re-entry testing was a huge undertaking, much like a large scaled event with many more nuances and complexities. We started planning the testing process back in November, but realized in early January we needed someone to coordinate the hundreds of volunteers this gigantic affair would be dependent upon. We needed a strong leader who was detailed oriented, dependable, innovative, flexible, independent, and customer focused. I made one phone call and within 10 seconds of trying to explain my needs, Sheena was onboard with energy, enthusiasm and an amazing attitude."
 Faculty and staff volunteers assisted with many aspects of testing, such as registration, being greeters, and scanning specimens. Sheena says more than 300 university employees volunteered at the testing site, which was, "a true testament to the Mizzou spirit." What was unknown was how many undergraduate students would participate in the optional testing for those who live off-campus, so they had to plan for maximum numbers. 
Sheena explains that the most challenging aspect was, "staying organized with the number of students, faculty and staff working at the site to make sure the testing process was as efficient as possible." The end result was that more than 2,000 students were tested at Hearnes between Sunday January 17-Thursday January 21st.
 Dr. Stackman says, "Her momentum and positive outlook never changed despite the challenges she was confronted with along the way. I am extremely grateful for Sheena—she and many others pulled us through and got us to the finish line with grace, laughter, and many successes."