May 2023 Faculty and Staff Profiles
May 19, 2023
---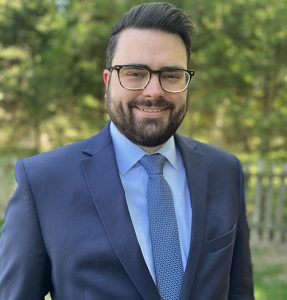 Dr. Chris Dobbs, Senior Program Coordinator, Student Success Initiatives, Interim Director, MU Learning Center & Adjunct Faculty, Honors College
Early Alert is a tool to connect students with resources so they can receive the support they need as early as possible, before a potential concern becomes a barrier to their academic success.
"Early Alert is a pivotal part of the student success ecosystem at the University of Missouri, which continues to see rising retention rates, including this year's highest ever rate of students returning to their second term," said Chris Dobbs, senior program coordinator for Student Success Initiatives and interim director of the Learning Center.
Recently, there have been many improvements in the system to help instructors and advisors ensure that students receive follow up within the Early Alert system. For example, a three-tiered system of flags started last August. Flags raised, either manually by an instructor or through the Progress Surveys, can be categorized into urgency level, and the tier also dictates outreach expectations. In order to clear a flag, an action plan or discussion with the student takes place. This is called "closing the loop," where the aim is to reduce response times.
The tool has reduced the overall workload and created a clean division of labor between advisors and student support staff so work is not duplicated, Dobbs said.
"We have already seen the benefits of the system, including faster response times for academic flags and the institution's highest ever percentage of those flags being addressed," Dobbs said. "In other words, students in distress receive help more quickly and more often, connecting them to support resources in a timely fashion. After all, Early Alert works best when it's early!"
Flags can be raised by faculty as a first step if a student has a low test score, an attendance concern, or a missing assignment. Kudos can also be used to recognize outstanding work by a student if they show improvement or exceed expectations. Read more about the flag outreach process on the Early Alert website.
How can instructors use the Early Alert system most effectively? Dobbs suggests that, when raising a flag or sharing kudos with a student, they tailor the message to the student so it is more personalized to their needs.
Also, Dobbs recommends that only the most significant flag gets raised. The accompanying email message can include more specific details, but this reduces the number of emails going to the student.
In addition, MU Connect has a historical record of flags, kudos and related outreach in each student's folder for reference.
Faculty and staff may also connect students with resources using referrals in MU Connect.
"Some of these are academic, such as the Learning Center and the Writing Center, but others address students' interests and needs outside the classroom, such as advising, career preparation, counseling services, MU Libraries, the Cashier's Office, and many more," Dobbs said.
Advisors are encouraged to help with earlier engagement and consistent outreach for lower tier flags to help students modify their behavior in the earlier stages.
Dobbs directs anyone needing assistance with Early Alert to refer to the guides and videos on the MU Connect website or send an email to: muconnectsupport@missouri.edu.
Alex Embree, Program Manager, Office for Financial Success
Alex Embree, program manager in the Office of Financial Success, defines financial success as, "being financially literate and applying that knowledge and skills to make informed financial decisions." For students, financial success refers to their ability to effectively manage their personal finances, maintain a healthy financial situation, and achieve their financial goals, Embree said.
Why is financial success important? One reason students leave Mizzou before graduating is financial difficulties.
Using the Early Alert system, students with a financial hold can be referred to Student Financial Aid or the Office for Financial Success (OFS) as early as possible, before it interferes with their academic performance and overall mental wellbeing. Or, if a student self-identifies as experiencing financial issues on the New Student Check-in Survey conducted each fall and spring, the financial concerns flag triage team contacts 100% of those students, either through email or phone call and sends them a list of resources. During the 2022-23 school year, 216 students reported a financial concern through the check-in survey, and OFS was able to speak directly to about 45% of them as part of their outreach.
The specific financial skills that the OFS helps college students focus on to be successful are creating a budget based on their income, avoiding high-interest debt, saving for the future, and building an emergency fund.
"Financial capability, the use of financial knowledge and tools, can also help students to reach goals, such as taking internships in another city, attending a study abroad program, balancing part-time work with other obligations, and participating extracurricular activities that can help them to build friendships and professional networks outside of the classroom," Embree said.
The OFS has many resources for students, and the office has received positive feedback from students. Embree said over 95% of students coming to them would recommend their services to friends and about 87% have experienced less financial stress after attending a workshop or one-on-one financial coaching.
"Students who meet with OFS commonly express that they wish they'd known about the service sooner, which highlights their desire to access timely financial support," Embree said. "Faculty and staff are key connectors for us, and they can refer students through the Office for Financial Success referral in MU Connect."
A big part of their team is the peer coaches, who are all listed on their website. They have completed financial education certification through the Association of Financial Counseling and Planning Education®.
"Additionally, they participate in trainings for cultural competency and counseling strategies to prepare them to provide sensitive support to students from all financial backgrounds," Embree said. "If you ask any of the peer coaches their favorite parts about working at OFS, invariably they'll reflect on their desire to make a difference in their peer's lives."
Students can use MU Connect to register for Financial Success workshops or to schedule one-on-one meetings. OFS appointments are free and confidential. The coaching meetings can be conducted in person or on Zoom to work around a student's schedule. Common reasons they schedule coaching are for assistance with budgeting, paying for college and help building credit.
Instructors can help spot signs students may need help and connect them with resources, Embree said.
"For example, if a student is working excessive hours and struggling to balance work and school, an OFS financial coach can help them create or review a budget to find ways to reduce expenses or increase income, thus reducing their need to work as much," she said. "Similarly, a past due hold on their myZou account may indicate a need to identify and optimize funding sources, and coaches can help students understand the terms and conditions associated with student loans as well as offer strategies for smart borrowing and finding scholarships."
The financial literacy skills learned either at presentations or at individual meetings will have positive implications for students' lives long after they leave Mizzou.
"Financial capability can provide a sense of security and stability, which can positively impact a student's overall well-being and ability to thrive academically and personally," Embree said.