Why Apply for An External Award?
External awards are a fantastic way for faculty to both develop and showcase their research. Sometimes an external award is given for a project in development, while other times it is a recognition for a career's worth of work. Either way, it often provides funding, community, prestige, and career advancement. The Provost's Office is dedicated to helping faculty find, apply for, and receive external awards. See below for all of our resources. Don't hesitate to reach out if you need any assistance.
(Pictured on left: Lee-Ann Allen receives 2021 AAAS Fellow award from President Choi and Provost Ramchand.)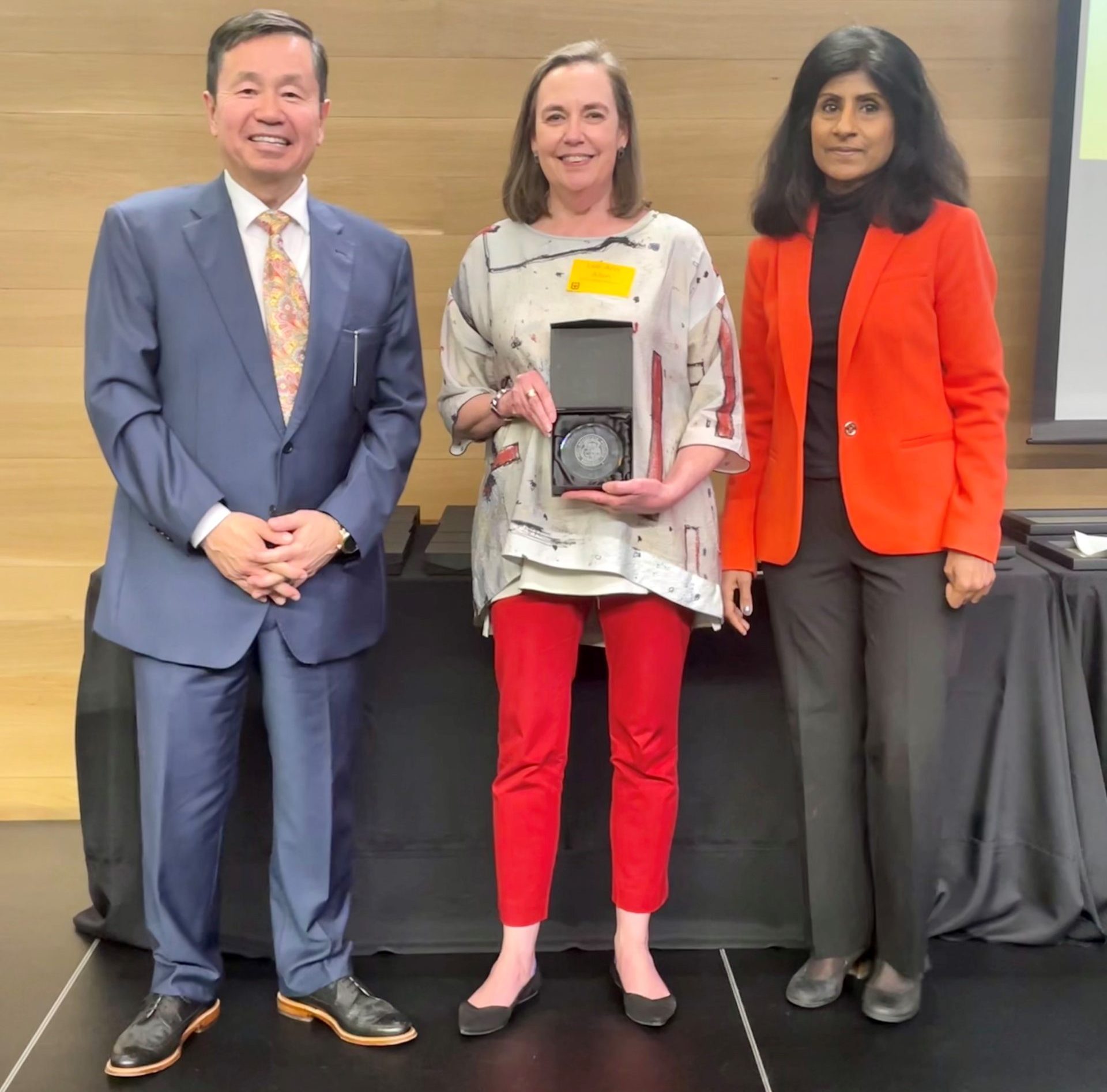 Recent Winners of Highly Prestigious Awards
Stephen Karian
Professor Stephen Karian, Department of English, was awarded a National Endowment for the Humanities Fellowship, 2022-23.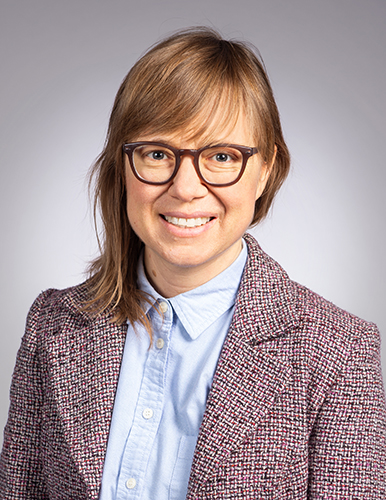 Martha Kelly
Associate Professor Martha Kelly, School of Languages, Literatures and Cultures, was named a 2022-23 National Humanities Center Fellow.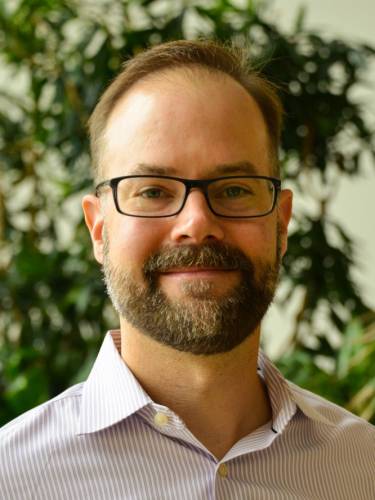 Blake Myers
Professor Blake Myers, Division of Plant Science & Technology, was elected as a member of the National Academy of Sciences.
Recent Nationally Recognized Faculty
Incentives & Recognitions
Course Release Program
Faculty who are in a strong position to apply for a "highly prestigious" award (as defined by the AAU) can apply for teaching release for one course in order to prepare this application. (Only faculty who are preparing their own awards application – not nomination packets for another faculty member – are eligible for this program.)
Applicants should submit a cover letter (indicating their eligibility for the award and timeline for award submission) and a CV to MUProvost@missouri.edu with subject line "Provost Highly Prestigious Awards Support Program" by April 4 (for teaching release in fall) or September 1 (for teaching release in spring). A short letter from the applicant's department chair, which assesses the applicant's potential for success and guarantees the award application submission, should be sent to the email address above. If granted, the Provost's Office will provide the department with $7,500 per course for teaching replacement.
University of Missouri Award for Faculty Excellence
President Choi has announced that faculty who receive a "highly prestigious" award (as designated by the AAU) beginning in 2022 will receive an award of $10,000.
Faculty Excellence Week
The President and Provost hosted the inaugural MU Faculty Excellence Week, which was held April 27 – May 4, 2022. This week-long celebration featured events to recognize faculty achievements and awards. Highlights of Faculty Excellence Week include the following invitation-only events:
Faculty Recognition Awards Reception & Ceremony
 Faculty Authors at Mizzou
Kemper Fellows Awards Ceremony & Reception
Watch our website for information about the 2023 Faculty Excellence Week events, to be held April 26-May 3, 2023.
Need Help with External Awards?
We have a team of people ready to help you as you need it. Please reach out to any of us with any questions:
Zoom Office Hours:  Join us monthly on Thursday mornings from 10:00-11:00 to discuss all your external award questions. Upcoming meetings:

Jan 26
Feb 16
March 23
April 27
Upcoming Webinars, Deadlines & Events
Upcoming Webinars
Building a Department Awards Culture, Feb 22, 2023: 1:00 – 2:00 pm. Please join us for a webinar about how to build an External Awards culture for your department. We will learn about different models and best practices from former Chair of Psychological Sciences and current Associate Dean of Arts and Science, Jamie Arndt; Communication Department Chair Brian Houston; and the chair of the Truman School of Government and Public Affairs Awards Committee, Vanya Krieckhaus. We will discuss different ways of approaching the pursuit of external awards, all with an eye toward helping your faculty receive the recognition their efforts deserve! Zoom link here
Fulbright Opportunities for Faculty: STEM Fields, March 13, 2023: 12:00 – 1:00 pm. In this webinar, moderated by David Crespy, Fulbright liaison, you will learn about support available through MU for applicants. Three Mizzou faculty members will share their experiences as Fulbright recipients. The session will conclude with time for Q&A. This session will be held on Zoom – register in advance. If you can't attend the webinar live, still register to receive a link to the recording. Panelists:
Dr. Kenneth MacLeod, Geological Sciences, 2023 Fulbright to U.K.
Dr. Rocio Rivera, Animal Science, 2020 Fulbright to Spain
Dr. Adam Whaley-Connell, SOM, 2021 Fulbright to Finland
Previous Webinar Recordings
Deadlines for prestigious and highly prestigious awards that are a good match for MU faculty. All deadlines may be found in the database below.
March Deadlines
April Deadlines
Search for External Awards
There are two main ways to search for the almost-18K external awards in the database:
1) Go through "Faculty Insights," which is located here: https://insight.discovery.academicanalytics.com/missouri/browseawards. You can use the various drop-down menus to expand of limit your search. If you want to see what awards you match best for, click "My Profile" and "Suggested Awards."
2) Use the Tableau below, using the sorting tabs on the right-hand side to help narrow your search. If you need assistance finding awards, please contact one of our staff listed below.