Latha Ramchand, Provost and Executive Vice Chancellor for Academic Affairs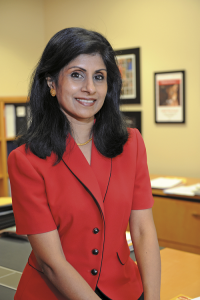 Latha Ramchand was appointed Executive Vice Chancellor and Provost at the University of Missouri (MU) in August 2018. Dr. Ramchand came to MU from the University of Houston where she served as dean of the C.T. Bauer College of Business. She began her deanship in 2011, prior to which she served as associate dean for five years, managing programs and administration, budgets and faculty affairs. During her tenure as dean, Bauer College grew enrollment to over 6,400 students, increased retention and graduation rates, raised over $73 million in funds, and established and named three endowed Centers of Excellence.
The College created several new degrees, tracks and certificate programs. It also entered into partnerships with other colleges at the University of Houston and with organizations outside the university, both within the U.S. and abroad. As dean, Dr. Ramchand oversaw the creation of unique student experiences such as Red Labs, a start-up accelerator that helps launch student-led technology startups, and Sustaining Urban Renewal through Entrepreneurship (SURE), a program that connects students with community entrepreneurs with the goal of reducing poverty.
In everything that she oversaw, Dr. Ramchand worked to promote inclusion and diversity. Three out of four businesses launched by the SURE program are owned by women and more than 67 percent are minority-owned. The Working Families Agenda she developed provides resources and support for women in business school, along with research that organizations can use to implement policies that create a diverse workplace.
Some of her awards include recognition for research by the Financial Management Association, for teaching through the EMBA Mid Con Teaching Excellence Award from the University of Houston, and for service via the University of Houston Faculty Excellence Proclamation awarded by the Houston City Council. Dr. Ramchand has taught at programs offered at the Kellogg Graduate School of Management (where she earned her Ph.D) at Northwestern University, the Indian School of Business, and the University of Houston. Dr. Ramchand is a CFA Charter Holder and serves on the National Small Business Development Center (SBDC) Advisory Board, the Center for Financial Planning Board (CERTIFIED FINANCIAL PLANNER BOARD OF STANDARDS), and the Beta Gamma Sigma Board of Governors.
Dr. Ramchand's experience in the banking industry and her expertise in corporate finance, strategy, and leadership, has allowed her to work with corporations to help them create value and grow their brand. In the last seven years, Dr. Ramchand has delivered over 60 presentations to various audiences including several keynote speeches on topics that include financial planning, leadership development and diversity.
Dr. Ramchand holds a PhD in Business Administration (Finance) from the Kellogg Graduate School of Business at Northwestern University. She and her husband, Ram, have two children, and one grandchild.